Foundation Herbalist Certificate
You can learn to use herbs to powerfully transform your health.
In this course you develop a complete method of healing with Traditional Herbal Wisdom integrated in modern holistic healing strategies.
In one long weekend per month, over 9-months, you learn all the essential skill of an herbal healer including:
The ability to effectively address the most common conditions.
Plant ID to help you be able to safely harvest the most common medicinals and edibles that surround us.

Medicine making of the most common herbal preparations from tinctures, salves, oils, oxymels and more.

Holistic physiology to help you understand the inner working of the body from an herbalist perspective.

Evaluation skills, like tongue and pulse analysis so you can more accurately choose which herbs fit the person you're trying to help.

And even business skills in case you want to start your own herbal business.
With the unfolding wisdom and skill that you develop throughout the course, you organically step into the role of guide, teacher and healer to those around you.
You'll be surprised at just how quickly you gain a deeper awareness and skill with herbs, when you have the proper guidance of an experienced and caring faculty, and learn along with an inspiring community of like-minded people whether online, or in-person.
Your guides on this journey are renowned herbalists and healers, with multiple decades of combined experience as educators and practitioners, including
Christopher Smaka

Elise Krohn

Paul Bergner

Jillian Stansbury

Nome Mcbride

Hanna Jordan

Talia Hammond

and others.
All Classes can be taken Online, In-person and are Recorded for unlimited viewing and for self-paced learners
Herbalist Training Highlights
Personal guidance:

O

ur educators care about your learning and take an active role in your class journey.

Hands-on Herba

l Le

arning:

Whether you're local, or at a distance we make sure that you have all the herbs that we work with by sending them right to your door.

Community:

At Vital Ways, you aren't a nameless, faceless person taking a class, you are a part of a community of people, near and far who support, and encourage each other.

Nationally Recognized Educators

are your guides on this journey.

Holistic

:

Healing is best
The Foundation Program is a complete stand-alone community herbalist course and can also be part of our 4 year clinical herbalist sequence.
"I received an amazing education at Vital Ways that gave me new perspectives, and amazing abilities with herbs and mental-emotional healing. Chris and the rest of the educators have the deepest integrity for healing and led the way with their commitment and passion for holistic health. I couldn't be more thankful that I found, and was able to attend this program."
"Vital Ways has been the most positively impactful program in my educational pursuits in nutrition, herbalism and wellness with each year adding another deep and important layer to my knowledge and skills. It has provided me with the ability to use herbs and nutrition with a methodology and structure to help clients with confidence. It has been invaluable and I can't recommend it highly enough"
2022 COURSE DATES
March 18-20
April 8-10
May 13-15
June 10-12
July 22-24
August 19-21
September 16-18
October 14-16
November 4-6
*Includes all materials, herbs and supplies mailed to your door.
All Classes can be taken Online, In-person and are Recorded for unlimited viewing and for self-paced learners
   REGISTERING NOW FOR 2022
What You'll Learn:
Topics of Study
Medicinal Plants: Traditional and time honored European, Asian and Native American herbal medicine combined with cutting edge modern scientific and state of the art clinical understanding of medicinal plants.

Botany for Herbalists: Wild Plant Identification

Wildcrafting: Be able to Harvest your own medicinal plants and wild medicinal and edible mushrooms.

Essentials of Physiology for the Holistic Herbal Healer

Foundations of Nutrition: Applied, Individualized, Body Positive Nutrition Essentials so you can choose the right foods for healing.

Holistic Approach to Stress Transformation and Emotional Balance: Holistic approach to a vibrant mind-body balance.

Medicine Making: Infusions, Decoctions, Tinctures, Oils, Salves, Oxymels, Electuaries and more.

Holistic Evaluation Skills: Tongue, Pulse, Reading the Body

Harvest and ID Wild Foods: From Finding to Preparation

Ethnobotany & Ethnonutrition: Northwest cultural ecosystems and native plant foods
Vital Ways is a Proud Member School
of the American Herbalist Guild
The only professional organization of Herbalists in the United States.  All of our students can become student members of the Guild and all of our coursework counts towards the requirements for professional membership.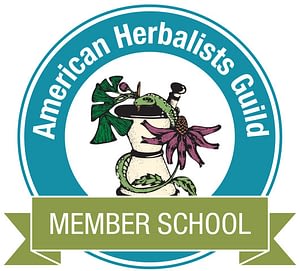 ABOUT THE SCHOOL
Vital Ways is a Holistic Herbalism School that is honored to have trained over 700 students in the past 12 years. In our herbalist training, we teach you a complete holistic herbal method of healing, which includes traditional and modern herbalism, nutrition, and holistic strategies, medicine for whole person healing. Our graduates have gone on to be successful herbal business owners in a variety of ways.
In addition to the holistic herbal school, Vital Ways runs a Free Community Clinic, now offering telehealth and in person appointments, guidance and support to those challenged by chronic health issues.
Our Free Clinic, is staffed by our 3rd and 4th year Clinical Practicum students, and our Clinical Faculty.
Our programs have flexible schedules to fit modern people's busy lives, are priced to fit most budgets, and we multiple payment options, scholarships and other funding possibilities.
"To me, Vital Ways Herbalist's Training means learning the ways to vitality. The School teaches a pathway on how to achieve vital health in a holistic approach, and I find that absolutely beautiful.  

Vital Ways provided me with an opportunity to continue my health sovereignty journey and to also help others on their journey. I now love making medicine at home, helping people with acute concerns, and building a deeper relationship with Earth's natural remedies."
""The Foundations course at Vital Ways brought me community, resilience, perspective, support, and so much more! I didn't know how the class was going to go when the pandemic began, and the first Zoom class we all had together was so affirming that I knew it was the right course for me. The faculty  is so inspiring, and each plant brought so much support into my life! I am so thankful and continuing this year, to learn more about the ways of the plants, and to support my community!  Thank you Vital Ways!"
We are located in the very lively NE Alberta Arts district at
2714 NE Alberta street
, surrounded by food, art galleries, cute unique shops, coffee houses and true Portland culture.