Wild Spring Greens

By Elise Krohn, Faculty, Roots Program Co-Director, Wild Foods Educator, Herbalist
As the Winter begins to be replaced by spring, I am filled with joy as I witness my favorite familiar signs of spring-Hazelnut's tiny red female flowers and golden catkins catch my eye. Bright green Indian plum leaves light up the rainy forest. Fragrant purple violets, nettle shoots, and dandelion buds will soon follow. These emergent plants provide us with the vibrant taste, nutrients, and medicine to help us to enter into spring with renewed energy.
They are a perfect example of where herbalism meets Food as Medicine. Here are a few of my favorite early spring edibles.
Covered Below with favorite recipes and pics:
Big Leaf Maple: Acer macrophyllum
Chickweed:Stellaria media
Dandelion: Taraxacum officinale
Nettles: Urtica dioica
Violet: Viola spp. (Many different species grace our woods)
Wood Sorrel:Oxalis oregana
Siberian Miner's Lettuce:Claytonia sibirica
Considerations for the Forager
When I am harvesting plants, I always consider how I can be respectful, safe and give back to the plant community. Here are some things to consider before harvesting:
Proper identification

: Make sure you have the right plant! Cross check with knowledgeable plant people, books, and identification apps.

Find Safe Places: Avoid harvesting from roadsides or railroads, in agricultural areas, or other places that may be contaminated or sprayed with herbicides or pesticides. These chemicals can make us sick.
Ask Permission: Acknowledge whose land you are on. Do you have permission to harvest there?
Slow Down and Look Around:

How many plants are there? Are they healthy? How many can you harvest while still leaving a strong community? Leave enough for other animals that rely on the plants for food.

Leave No Trace:

Clean up so that you don't make a visible impact. Fill in holes, etc.

Anticipate Processing Time and How Much You Need:

Sometimes the bulk of the work comes when you get home and process the plants. Will you have time? How much will you be able to actually use?
Giving Back as a form of Gratitude
Showing appreciation for the earth's abundant gifts is a practice that many conscious wildcrafters and foragers choose to do.  Some leave a gift such as a song, or a poem, prayer, or just a moment of silent appreciation and gratitude.  If you see some, it can be very nice to pick up any garbage or if you know you're seeing some, remove invasive plant species.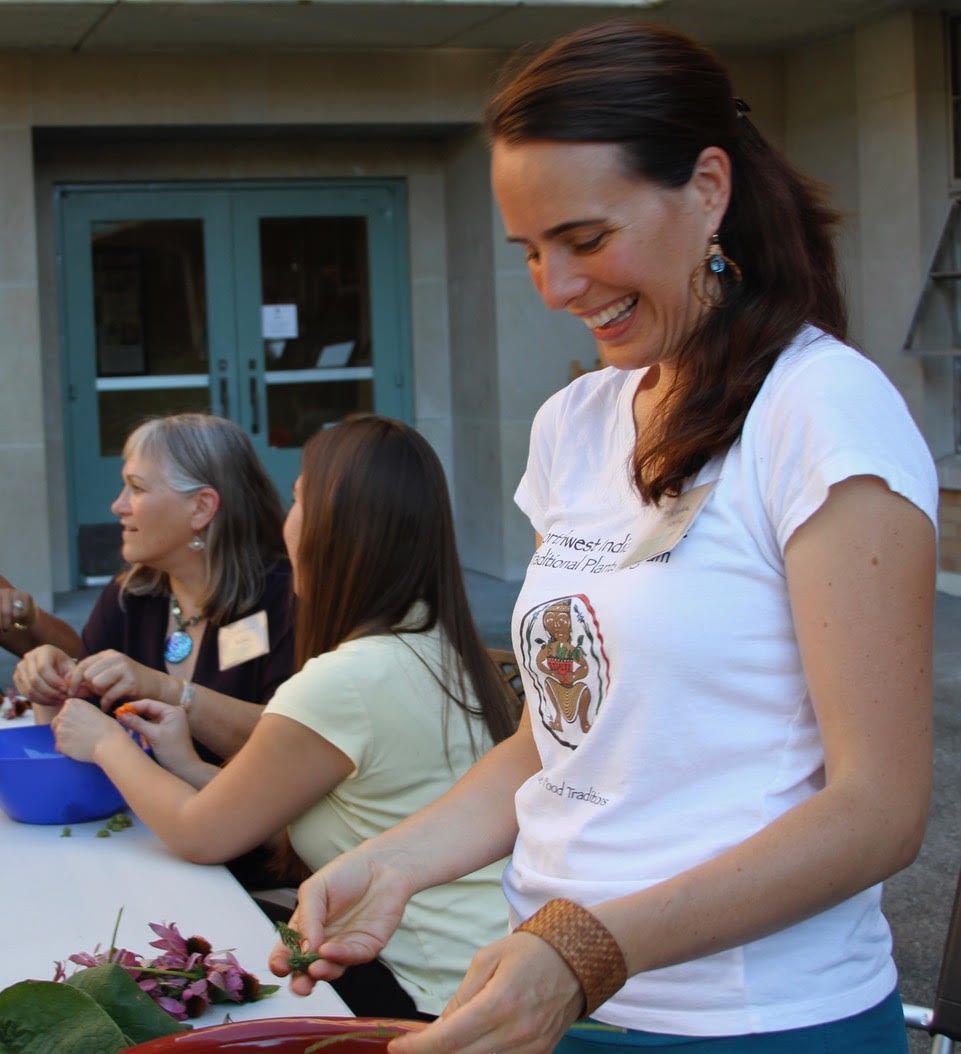 Bigleaf Maple Flowers
Bigleaf maple (Acer macrophyllum) is a tall multi-trunked tree that thrives in wet forests and open fields. Young bark is green and smooth, while older bark becomes grooved and gray-brown in color. Older trees are often covered in mosses and licorice ferns. Massive leaves have five tips and can grow over a foot in diameter. From March through April, numerous short-stalked, greenish-yellow flowers bloom in hanging clusters before leaves fully emerge. Each flower is bowl-shaped with many pistils that have downy fur at their base, resembling a tiny bird's nest. Fruits are shaped like wings attached in a V pattern.
Bigleaf maple produces massive amounts of seeds that travel like helicopters in the wind. Every spring, thousands of seeds germinate but only a few survive. Bigleaf maple can grow three meters in a single year and can live as long as 300 years. It is often home to many plants, insects, birds, and tree-dwelling creatures.
In March and early April, bigleaf maple trees produce so many flowers they turn the hillsides golden. They are one of the biggest nectar-producing flowers in our region and the honey bees make from them is light-colored with a floral, almost minty after-note. People harvest bigleaf maple flowers when they are fully open at the base but still budding at the tip of the cluster. You can taste the sweet nectar and pollen. Try eating the flowers fresh, using them as a garnish on salads or soups, or add them to baked goods like pancakes.
Bigleaf Maple Flower Fritters
You can experiment with fritters by adding either dried or fresh herbs. Try savory flavors like rosemary or garlic, or sweet flavors like vanilla and cinnamon. If you are preparing sweet fritters, consider serving them drizzled with a little maple syrup!
20 bigleaf maple flower clusters

½ cup flour

½ teaspoon baking powder

Pinch of salt and herbs or spices of choice

2 eggs beaten

¼ cup milk (cow, rice, almond, or even water if you do not have milk)

¼ cup oil for frying (sunflower, sesame, safflower, and coconut are favorites)
In a bowl, mix flour, salt, and herbs or spices. In another bowl, whisk eggs with milk. Put a medium-sized sauté pan on medium-high heat and add oil. Once the oil is heated, dip maple flower clusters in the egg mixture first, then dust them with the flour mixture, and place them in the pan. Place 4-5 in the pan at a time. When the fritters are golden, flip, and let them brown on the other side. Let them drain on paper towels. Serve hot.
Variations – I have used pancake mix for this recipe and it works fine. Blend a batter, dip the flower clusters, and let the excess drip off before you put them in the pan. Gluten-free pancake and biscuit mix can also be used for this recipe.
Keys to Id:
General:

Large Deciduous Tree, that is often covered with a thick coat of furry moss.

Key Characteristics:

The Largest Maple-like Leaves in the forest up to 12 inches across. The flowers grow in yellow clumps, that hang down, called racemes, and the seeds are dispersed in those helicopter-like winged samara.

Habitat:

Likes slightly moister areas where it'll form dense forests, but can tolerate dry and live with oak, Doug Fir and lots of others. Loves rainforests and rainforest microclimates, those little valleys, that channel all the rain, and are covered with an almost glowing areas

Lookalikes:

Alder and Cottonwood, but each has very different leaf shape, and they also grows straighter than maple that grows more round.
Chickweed
Chickweed (Stellaria media) grows in patches and can reach a little over a foot tall. Tiny white star-like flowers have five petals, but appear to have 10 because each petal is shaped like rabbit ears. The bright green leaves grow in opposite pairs. A single line of hair runs down the length of the stem, resembling a mohawk.
Chickweed is a common weed that will grow in any wet place it can take root, including carefully managed gardens and randomly available city dirt patches. It loves moist rich soil and will take over entire garden beds in early spring. As the sun gets brighter and the days warmer, it dies back in open areas, but continues to thrive in shady moist corners.
Chickweed contains a powerhouse of nutrients. Spinach is the most mineral rich green in grocery stores but chickweed boasts 12 times more calcium, five times more magnesium, 83 times more iron and six times more vitamin C! No wonder chickens and other green foraging animals love this nutritious plant! (Hence the name: chickweed.)
Young chickweed has a pleasant, mild flavor. It grows rapidly through March and April. Use scissors to harvest the tender new growth or just trim the top couple of inches off more developed plants. Rinse if necessary. Chickweed will last for several days in the refrigerator when wrapped it in a damp paper towel or placed in a plastic bag. If chickweed has a stringy tough texture, it is too old to be edible.
Add chickweed to salads or blend it into smoothies, pesto, and sauces. Add finely chopped chickweed to eggs, quiche, pasta sauce and lasagna to give them an extra nutrient boost and a splash of bright color. To preserve chickweed, place the tender greens in the blender with a little bit of water, blend well and pour into ice cube trays. Freeze, remove cubes and place them in a freezer bag for later use in smoothies and soups.
Chickweed Pesto
Try tossing this with potatoes, or cooked vegetables. It can also be spread on fresh vegetables as a snack.
4 cups young chickweed, rinsed, drained, and chopped

1/2 cup Parmesan or Romano cheese, grated

1/3 cup walnuts or other nuts of your choice

1/3 cup of extra virgin olive oil

2-3 cloves garlic, chopped

Juice of 1/2 lemon

Salt and pepper to taste
Optional: add 1 bunch basil, stems removed, washed, and drained (about 2 cups leaves)
Place all ingredients in a food processor or blender. Blend until smooth. Add salt and pepper to taste. Place the pesto in a clean jar and pour a little extra olive oil over the top. Cover with a lid. Pesto will keep for 1-2 weeks in the refrigerator.
Keys to Id:
General: Small, less than 12 inches green carpet like plant with stalks that intertwine forming dense matts, speckled by very small white flowers like miniature holiday lights, in lawns, fields and woods edges.
Key Characteristics: Matted intertwined carpet-like growth habit, with tiny, 5 white petaled, deeply divided flowers-(makes it look like 10 petals). Opposite leaves, with tiny row of white hairs up stalk, and a often a reddish/purplish tint.
Habitat: Yards, fields, during moist seasons. Doesn't tolerate dry, and will disappear in Oregon/Washington's dry summers.
Lookalikes:Hedge nettle, and cleavers and dandelion all grow nearby but none look like chickweed.
Dandelion
Dandelion (Taraxacum officinale) is a nutritious food and a powerful medicine. This common "weed" thrives in sidewalk cracks, grassy lawns, well-tended gardens, abandoned city lots, and even mountain meadows. It is surprisingly easy to misidentify. Many look-alike plants have similar leaves but dandelion leaves are hairless. They have toothed edges, hence the French name, "dent de lion" lion's tooth. There is only one flower per stem. Stems are hollow.
What most people think of as a single dandelion flower is actually hundreds of flowers growing together on a single base. These open to the sunlight and close in dark. rainy weather. Each dandelion can produce more than 5,000 seeds per year in the form "wish balls", easily away with the slightest breeze or breath. Individual seeds with parachute-like hairs have been known to travel on the wind as far as five miles!
Dandelion helps to improve soil quality. Roots draw minerals up from deep layers of earth – concentrating them in the whole plant. When the plant dies back, it deposits these minerals on topsoil. Roots also aerate hard packed soil and create pathways for water to enter. Dandelion flowers are pollinated by over 90 insects.
Dandelion leaves are high in vitamins and minerals including potassium, calcium, magnesium, iron, and vitamins A, B, and C. Pinch off the young tender leaves from the center of plants. Rinse and keep cool. Add them fresh to salads or try steaming, sautéing or boiling them. Older leaves become intensely bitter as they are exposed to increasing amounts of sunlight.
Dandelion buds can be eaten like capers when they are still tight little buttons. To remove bitterness, wait until the sepals have unfurled and pinch them off. The buds look like little watermelons and can be eaten fresh, cooked or pickled.
Dandelion flowers are high in Vitamin A and have a sweet. mild flavor. The base of the flowering head and the green sepals are bitter. You can pull the flowers off and use them straight in salads or add them to cooked foods like quiche, pancakes, muffins, and fritters.
Dandelion Bud Pickles
I got this recipe from my friend and esteemed herbalist Joyce Netishen. They are delicious on salads or straight up!
About 1 ½ cups early spring dandelion buds

1/3 cup sweet onion, finely chopped

2 cloves garlic, minced

Apple cider, brown rice or white wine vinegar

Tamari or soy sauce
Place onions and garlic in the bottom of a 16 oz. mason jar. Fill the jar with dandelion buds, leaving 1-2 inches of clearance on the top. Cover buds with a mixture of 25% tamari or soy sauce and 75% vinegar. (For me this was about 10 ounces). Cap and let sit for at least 2 weeks – no refrigeration necessary. Stir every of couple days and ensure all buds are covered with vinegar.
Keys to Id:
General: Small ground level weedy plants with no upright leaf stems. Has single hollow flower stalks and gorgeous yellow flowers.
Key Characteristics: Rosette of deeply toothed leaves arranged radially, and completely hairless, with hollow unbranched flower stalks with one single yellow 'flower' head, that is actually a collection of about 150-250 very small flowers in one group called an inflorescence. These are common in the Aster family which is why sunflowers have so many seeds in one location, and dandelions have the familiar seed head with all those seeds.
Habitat: Yards, fields, disturbed areas.
Lookalikes: There are many yellow aster family flowers that look like Dandelion. Most common is hawkweed, Cats ears or false dandelion, Agoseris. If you ensure the key characteristics are present you'll never make a mistake.
Stinging Nettles
Stinging nettles are our first edible greens to emerge in early spring. They offer us strength and energy during a generative time. You can find nettles in fields, streambeds, and disturbed areas with rich wet soil from the coast into the mountains. They grow 1-3 meters tall and have opposite deep-green leaves with serrated edges, tiny greenish flowers and square stems. The stalk and underside of leaves are covered with stinging hairs that rise from a gland containing formic acid. Gloves and scissors are usually used to harvest nettles.
Nettles are often called a "superfood" and are one of the highest plant sources of chlorophyll, vitamins, amino acids, and minerals including calcium, magnesium, and iron. Gather nettles to eat fresh before they flower in March-May. Do not gather nettles in agricultural or industrial areas because they may absorb inorganic nitrites and heavy metals. Ways to prepare nettles for food include boiling, steaming, and sautéing them. They only need to be boiled for a few minutes, as the "sting" will evaporate with heat. Nettles will cook down like spinach and can be used in soups, dips, quiches, casseroles, meat pies, egg scrambles, etc.
Nettle season is short, but you can enjoy their benefits throughout the year by preserving them. To can them, follow instructions for spinach. To freeze them, fill a medium-sized colander with the amount of nettle you think you will use for a typical dish. Wash the nettles. Fill the pot with enough water to submerge your plants, bring to a boil, and add nettles. Cook for about 3 minutes. Remove them from the water with a slotted spoon and submerge in a bowl of cold water to stop the cooking process. Remove with the slotted spoon and let them drain a minute before placing in a freezer bag. Start your next batch in the boiling water and repeat. You can quickly freeze many bags of nettle this way. The cooking water makes delicious tea or broth.
Spring Nettle Soup
This simple soup is a perfect energizing food for springtime. It is easy to make and has a nice, smooth texture when blended.
1 bag of fresh nettles (plastic grocery sized)

3 tablespoons olive oil or butter

2 large onions, diced

2 cloves of garlic, chopped

8-10 cups water or broth

4 potatoes, peeled and diced

2 cups corn

Juice of 1 lemon

Salt and pepper to taste
Wash nettles in a colander, chop with scissors, and set aside. In a large soup pot, sauté onions and garlic until tender. Add corn, potatoes, nettles, and water or broth then bring to a boil and simmer for 15 minutes. Blend all ingredients in a blender or a food processor. Add lemon juice, salt, and pepper to taste. You can add other vegetables like celery, carrots, and squash.
Keys to Id:
General: Medium sized usually less than 5 ft tall, with single erect stalks, and only minimal branching.
Key Characteristics: Single tall, square stems, serrated edged leaves covered in stinging 'hairs'. Young plants often have a purplish hue.
Habitat: Fields, and open woods, often somewhat moister areas.
Lookalikes: Mints, especially hedge nettle which though having the same common name doesn't share any other properties as they're different plant families.
Miners Lettuce, Candy Flower
In springtime, these wild greens form a lush carpet in shady wet woodlands and backyard gardens. They can be eaten as a snack or brought home and incorporated into salads, dips, and other dishes. Miner's lettuce (Claytonia perfoliata) and candy flower (Claytonia sibirica, also called Siberian miner's lettuce and spring seauty) are two of our most delicious wild greens. Miner's lettuce has very unique physical characteristics. The stem runs right through the center of the leaf and ends with tiny white flowers, resembling a lily pad. Candy flower has smooth-edged leaves on juicy stems that are often rosy-colored at the base. Five-petaled flowers have distinctive pink stripes.
Violet
Violets (Viola spp.) are beautiful low-growing plants that thrive in moist shady forests. There are many types in our region including early spring violet, marsh violet, Canada violet, stream violet, and trailing yellow violet. They have heart or kidney-shaped leaves and five-petaled flowers that can be white, yellow, purple, or pink. Some have a wonderful smell. Try tasting the leaves or getting down on your hands and knees to smell them. It is worth it!
All violet leaves and flowers are edible, including their close relatives, pansies and Johnny jump ups. Eating just a few violet leaves will fulfill your daily requirement for vitamin C! You can eat a handful as a trailside snack or you can add them to salads, soups, or sautés. Violets make a beautiful garnish for cakes and other desserts. You can brush egg white on the flowers, carefully coat them in confectioners sugar, then bake them in the oven on the lowest temperature to make candied violets. Wild violet leaves contain saponins or soap-like compounds, which can cause digestive upset if eaten in very large quantities. A small handful is a good amount for one person.
Wood Sorrel
You can identify wood sorrel (Oxalis stricta) by its three heart-shaped leaflets that resemble shamrocks. Wild varieties have bright-green leaves with yellow 5-petaled flowers. Many nurseries now sell variegated leaf varieties with different colors of flowers. All are edible.
Tart tasting wood sorrel leaves surprise and delight most people. Children say they taste like sour patch kid candies – you might try calling them "sorrel patch kids." The tartness comes from oxalic acid and other acids. Wood sorrel leaf is a nutritious green that can be added to salads, sauces and other dishes. They contain more Iron than spinach. The flowers are tiny but edible and make a beautiful garnish. Be careful not to ingest too much wood sorrel as eating large quantities of foods with oxalic acid can cause loosen bowels. Just a handful will be enough to enliven your senses.
Spring Greens Salad
This delicious salad is packed with nutrients and bright floral flavors. Blend the dressing ingredients in a blender until smooth and pour over the salad just before serving.
1 cup chopped chickweed greens (substitute lettuce if unavailable)
1 cup candy flower leaves (substitute lettuce if unavailable)
½ cup violet leaf and flower
½ cup wood sorrel leaves
½ cup edible flowers – salmonberry, thimbleberry, strawberry, calendula, or rose
Dressing – Huckleberry or Blueberry Balsamic vinaigrette
½ cup fresh or frozen and thawed huckleberries or blueberries
¼ cup extra virgin olive oil or walnut oil
2 tablespoons Balsamic vinegar
1 teaspoons honey
Pinch of salt and pepper
Resources
Discovering Wild Plants: Alaska, Western Canada, and the Northwest

by Janice Schofield

Edible Garden Weeds of Canada

by Nancy Turner and Adam Szczawinski

Edible Wild Plants: A North American Field Guide

by Thomas Elias and Peter Dykeman

Edible Wild Plants: Wild Food From Dirt to Plate

by John Kallas

Forager's Harvest

and

Nature's Garden

by Sam Thayer

Pacific Feasts

by Jennifer Hahn

Pacific Northwest Foraging

by Douglas Deur

Plants of the Pacific Northwest Coast

by Jim Pojar and Andy Mackinnon
References
Foster, Steven and Hobbs, Christopher.

Western Medicinal Plants and Herbs

. Peterson Field Guide. 2002

Hahn, Jennifer.

Pacific Feast

. Seattle, Skipstone. 2010

Kallas, John.

Edible Wild Plants: Wild Food From Dirt to Plate

. Layton, Gibbs Smith. 2010

Krohn, Elise.

Wild Rose and Western Red Cedar

. Gorham Printing. 2005

Lloyd, Abe. Wild Harvests Blog.

http://arcadianabe.blogspot.com/2013/02/bigleaf-

maple-syrup.html

Schofield, J.

Discovering Wild Plants: Alaska, Western Canada, and the Northwest

. Portland, Alaska Northwest Books. 1998

Turner, Nancy.

Food Plants of the Coastal First People

. Vancouver, UBC Press. 1995
To learn more about wild edibles, herbalism, herbalist training, and holistic health, please reach out to Vital Ways, a Portland Herb School, for herbalism classes, free clinic and to talk herbs.
Wishing you delicious, nutritious times, foraging for the abundant free food and medicine that the earth provides.
If you have questions or comments please sent them to info@vitalways.com, give us a call at 503 914 7908 or stop in to our herbal apothecary in Portland. Until then, Bon appetite!