Roots Holistic Herbalist Certificate Course
Enrolling Now for May 2022!
The Roots Herbalist Certificate Program

is an introductory level, live, online and in-person, complete

Holistic Herbalist Certificate Training.
In this experiential Holistic Herbalist Training, you develop a complete herbal healer's skill, with herbalism, nutrition, lifestyle and more so you can reclaim your own health, and make a real difference in the lives of those you care about with the healing power of nature.
What You'll Gain From This Course:

An Intimate, Personal Understanding

of 65 of the

Key Medicinal Plants

of Western Herbalism.

The Ability to Confidently and Skillfully Address

the most Common Health Conditions effectively

Extensive Medicine Making Skills

you will be able to create your own Salves, Infused Oils, Tinctures, Hydrosols and much more.

Plant and Mushroom ID Essentials

to more deeply connect with nature and be able to harvest your own wild food and medicine.

A Complete Holistic Approach

that prepares you with the ability to use herbs for whole person healing, mind, body and spirit, not just address symptoms.
Our Number one Priority at Vital Ways is to Empower You to Actually Learn this Beautiful Art and Science,


Not Just Take a Class About It!
How We Are Different:
A Guided Small Class —

We take an active role in your learning to ensure that you are supported on every step of the way.

Hands-On

Experiential

—

All of our classes are guided by our expert faculty and are immersive and hands-on so you can learn this personally. If you're online, we ship you herbs right to your doorstep so you can have the full experience.

A True Holistic Approach —

Where Herbalism and Holism combine, there is a possibility for deeply transformative healing for the whole person, mind, body and spirit

.
A Community Journey —

We learn better together, and when you join Vital Ways, you join a community of like-minded people. In-person or online we share your passion for healing. We inspire, support, and encourage each other on the herbalist's path.

A Complete Comprehensive Herbal Skillset —

Which includes all the essentials of herbalism including

advanced detoxification strategies, wild plant identification, medicine making skills, effective herbal stress management, herbal formulation, wild food harvesting, tongue and pulse analysis, and much more.
You can become the healer that you envision yourself to be, to transform your health, that of your loved ones,
and for a new career in healing.
Roots Herbalist Certificate Co-Directors
Christopher Smaka, Vital Ways Director
Chris

is the director of the Vital Ways Center for Holistic Herbalism, our 1-4 year Holistic Clinical Herbalist School, Community Free Clinic, and The Herbal Apothecary, a community based herb store.
He has been fortunate to study herbalism and holistic health since 1995 with amazing educators in the US and in India, China and Nepal.
In his clinical practice, Chris combines traditional herbalism with modern advancements in holistic health, from nutrition, functional medicine and mind-body approaches for whole person healing. In his spare time, he is most likely to be found in the woods with his Siberian husky, sitting on a bed of moss, stooped over a patch of colorful fungi, field lens in hand.
Elise Krohn M. Ed, Roots Co-Director
Elise

is an educator, author of several books, her
balist, and native foods specialist living in the Northwest. During her 15 years of experience teaching in tribal communities, she has worked with elders and cultural specialists to develop community gardens, food sovereignty resources, a program on healing addiction, and curricula on chronic disease prevention. She also has over 10 years of experience as a clinical herbalist, and has authored two books and numerous articles on herbal medicine and wild foods. Elise is currently a Fellow in Ethnobotany and Ethnonutrition at the Center for World Indigenous Studies.
2021 Schedule

Class Dates & Times (One Saturday & Sunday per month)
10:00AM – 5:00PM
May 22 & 23
June 12 & 13
July 17 & 18
August 14 & 15
September 18 & 19
October 16 & 17
November 13 & 14
December 4 & 5
Tuition
$2200 includes all supplies and materials mailed right to your home.
"My time at Vital Ways deepened my understanding of holistic health and gave me the herbal skills to help others almost immediately.  It also gave me a sense of connection and fostered deep personal growth that I didn't expect. It was a truly transformative journey, that I am eternally grateful for."
"This class transformed me in ways I couldn't even imagine. I never dreamed I could learn such amazing herbal healing skills so quickly. I feel so lucky to have found the Vital Ways program and to have been able to learn with such  passionate and caring instructors.

"
"I received an amazing education at Vital Ways that gave me new perspectives, and abilities with herbs and mental-emotional healing. Chris and the rest of the educators have the deepest integrity for healing and led the way with their commitment and passion for holistic health. I couldn't be more thankful that I found, and was able to attend this program."
Specific Topics of Study:
Medicinal Plants:

Traditional and time honored European, Native American, and Asian herbal medicine informed by cutting edge scientific and state-of-the-art clinical understanding of medicinal plants.

Botany for Herbalists:

Plant and mushroom identification

.

Wildcrafting:

How to harvest your own medicinal plants and mushrooms.

Holistic Physiology for the Herbalist:

The essentials of physiology for herbal approaches to healing.

Medicine making skills

:

Infusions, decoctions, infused honeys, oils, salves, tinctures, herbal vinegars and more.
Vital Ways is a Proud Member School
of the American Herbalist Guild
The only professional organization of Herbalists in the United States.




All of our students can become student members of the Guild and




all of our coursework counts towards the requirements for professional membership.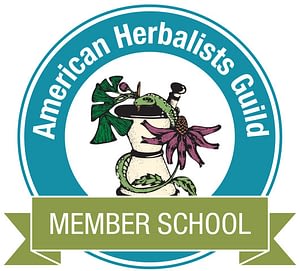 Vital Ways is…
A Holistic Herbalism School that is honored to have trained over 700 students in the past 12 years in traditional and modern herbalism, nutrition, and holistic strategies. We are so proud of our graduates who have gone on to be share what they have learned here, to help themselves and others achieve more lasting and vibrant health.
A Free Community Clinic, now offering tele-health and in person appointments! Guidance and support for those challenged by continuing health issues. Our Clinic is staffed by our 3rd and 4th year Clinical Practicum students, supervised by our Clinical Faculty.
A Community, of students, faculty, alumni, patrons and staff who share a love of holistic healing, and gather to support, encourage and empower each other along their health journeys.
Our programs have flexible schedules to fit modern people's busy lives, are priced to fit most budgets. We offer multiple payment options, scholarships and other funding possibilities.
… and so much more!

Our Location
We are located in the very lively NE Alberta Arts district at
2714 NE Alberta Street
, surrounded by food, art galleries, cute unique shops, coffee houses and true Portland culture.