Welcome To Vital Ways
School for Holistic Herbalism
You Can Learn

Herbalism To Help Yourself, Your Family, and Your Comm

unity Heal
At Vital Ways, we're very inspired by the growing movement of people turning to natural remedies, herbs, and holistic lifestyle to take control of their own health. We believe that this growing health empowerment movement has the real possibility to make a substantial change in the course of our future.
We envision a better time when it is common for people to understand how to use the gifts of nature, for healing themselves and others.
Our Mission is to make this vision a reality, by guiding, supporting, and empowering people on this path in our school, Free Clinic, and Apothecary. We're passionate about helping people reclaim ownership over their health, naturally.
Our 1-4 year Herbalist Certificate Courses are where we enact this mission by guiding students with the essential skills and wisdom from traditional and modern herbalism, integrated into essential holistic healing approaches for a profound healing synergy. This approach that we teach in each of our courses, is aimed at not just relieving symptoms but bringing about a state of health that is more vital, balanced, vibrant, and whole.
More than just an Herb School
In our courses, you don't just gain an intimate personal knowledge of plants, but you also develop a complete holistic healing skillset which incorporates nutrition, lifestyle, mental-emotional balance, environmental health and more.
We're very honored to have been effectively guiding students with this method for over 12 years.
If You Feel Inspired to Learn Holistic Herbalism and advanced holistic healing strategies to be able to help yourself heal, and be able to confidently share it, then we welcome you to join our community of Herbalists and Healers in our courses, or schedule an appointment in our free clinic, or visit our public apothecary.
On the Herbalist Certificate Journey you are personally guided by passionate experts in the field including Christopher Smaka, Paul Bergner, Elise Krohn, Jillian Stansbury, Hanna Jordan, Talia Hammond and others.
Registering Now!
Beginner to Advanced Classes
Enrolling Now for Limited Time
'Studying at Vital Ways has been the most transformational and empowering decision of my life.  I now feel confident in my ability to use a holistic herbal approach to healing to truly change lives.  Chris and the rest of the faculty organized complex material in an easy-to-learn way. The information from this program to heal myself from Lyme disease and I am now symptom-free and deeply devoted to the path of the healer.'
To Ensure That You Learn Healing Skills Personally, All of Our Classes Provide You With:
A Hands-On Experiential Class:

O

ur classes are experiential.

We ship you herbs

right to your doorstep.

Personal Guidance by Experts in the Field:

Your educators are passionate, highly experienced, experts in the field

and take an active interest in your learning in our live classes.

Support of a Community:

When you join our classes you connect with a like-minded community, of

people, in-person and online, who share your passion for healing and inspire, support, and encourage each other on the herbalist's path.

Traditional, Modern, and Holistic

:

We teach a blend of Ancient Herbal Wisdom and Cutting-Edge Health Knowledge, in a whole person healing approach.

Focused on You Becoming the Healer:

We ensure that you personally develop the skill and wisdom yourself, to use herbs and holism confidently and effectively.
In our Classes, You Develop the Confidence and Skills to be an Effective Holistic Herbal Healer.
Enrolling now for Spring 2022
Vital Ways is a respected leader in truly holistic herbalism and our mission is to share trustworthy, effective, actionable, natural approaches that lead to whole person healing, in mind, body, and spirit guided by the wisdom of nature.
We are honored to have been guiding students to become herbalists
and healers for 12 years.
We couldn't be more proud of our graduates who have gone on to do great things with what they've learned here, including being:
Skilled Herbal Practitioners

Educators, Bloggers

Professional Medicine Makers

Apothecary Owners

Herb Farmers
Testimonials
To Become a Skilled and Confident Healer in 2022, Join Now
4 Herbalist Certificate Programs
Enrolling now for a limited time!
The Foundation Program, and Roots Program

a

re community herbalist courses for those with no prior herbal education. Graduates of either are eligible to enroll in the

Advanced Herbalist Training Course.
T

he Advanced Herbalist Course

,

for those with at least one year of prior training, to take their skills to the next level. Graduates of the Advanced Program are eligible to work in our

Community Free Clinic.

Clinic Practicum Course

,

is for herbalists who are committed to offering their herbal skills to the community as a Student-Clinician in our

Community Free Clinic

.
Vital Ways is a Proud Member School




of the American

Herbalist Guild
The only professional organization of Herbalists in the United States. Our students can become student members of the Guild, and all of our coursework counts towards the requirements for professional membership.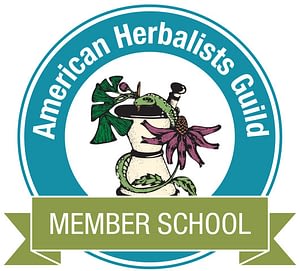 "I received an amazing education at Vital Ways that gave me new perspectives, and amazing abilities with herbs and mental-emotional healing. Chris and the rest of the educators have the deepest integrity for healing and led the way with their commitment and passion for holistic health. I couldn't be more thankful that I found, and was able to attend this program."
Free Clinic Appointments
I
f you are struggling with a chronic health issue and would like to receive guidance from Free Clinic than please reach out to us by sending an email or calling (503)914-7908 for a phone consultation.
We think that healthcare is a right, not a privilege. Our Free Clinic has been providing 100% free healthcare for over 10 years.
Our clinic is staffed by our 3rd and 4th year Practicum Students and overseen by our clinic faculty.